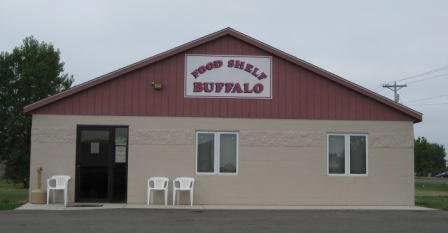 Through your generosity, we continue to support an ever-growing number of families in need of hunger relief. On behalf of the Buffalo Food Shelf families, we want to THANK YOU for your continued support. It is through the generosity of the community and the grace of God that we can continue in our mission to feed the hungry in our community.
If you are in need please contact us to learn more on how we can assist you and your family.
 We serve families living in Buffalo and Montrose, Minnesota.
The Food Shelf is an equal opportunity provider and does not discriminate on the basis of race, color, national origin, sex, age or disability.
Distribution Hours
Tuesdays – 6:00 – 8:00 PM
Thursdays – 6:00 – 8:00 PM
Fridays – 10:30 AM – 12:30 PM
1st Monday of each month (Senior Day) – 10:30 AM – 12:30 PM
Please arrive at least 30 minutes before closing to receive services.
Bring a photo ID and a piece of mail dated within the last 30 days showing your current address in Buffalo or Montrose.  We ask that households come only one time per month to allow everyone access to the food that we have available.
Located at:  301 12th Avenue  South, Buffalo
Mailing address:  PO Box 222, Buffalo, MN  55313
Phone number:  763-684-1699
Email:  [email protected]